Turn off Antiques Roadshow, put the kettle on and open a pack of hobnobs; the Thursday Murder Club is back!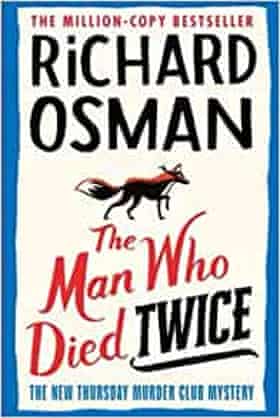 Richard Osman's cosy mystery novel is currently smashing book sales records across the country. He seems to have found a winning formula and can't be blamed for milking it for all it is worth. The question is: has he sustained the quality and originality of the first novel, or is this sequel already showing signs of repetition?
Not much time has passed since the events of first novel in the series. The four core members of the club – you will remember Elizabeth, the former spy, Joyce, a retired nurse, Ron, trade union leader and West Ham fan, and Ibrahim, a psychiatrist – are keen to get started on their next mystery to while away the hours that drag in their retirement community. The 'not dead yet' trope familiar from movies such as RED (retired and extremely dangerous) where elderly people draw on their years of experience to prove more than a match for their much younger enemies is quite well-worn by now, but Osman brings it to life by creating some very likeable and believable characters. Joyce in particular stands out – she is quite oblivious to some things going on around her (there is a long running joke about the personal messages she receives to her ambiguously named Instagram account) but her emotional intelligence gives her insights the others miss. It helps of course that she is one of the novel's principal narrators. She enjoys the adventures even when at personal risk, managing a quick snooze in the back of a car while being held at gunpoint. For some reason I can't shake the thought that Joyce is based upon Betty White's character in – well, pretty much everything she is in.
There's a comforting lack of peril in The Man Who Died Twice, despite the occurrence of several murders and appearances by gangland bosses and the Mafia. I thought it unlikely that Osman would allow plot armour – the phenomenon where the reader/viewer knows a character isn't going to die however extreme the risk, because of their importance to the novel/film/franchise – to protect all of his characters, particularly given their advanced age, but they all make it through largely unscathed.
Because the novel is set close in time to the events of the first, there has been little progression in the lives of the foursome or their extended crime-fighting team. PC Donna is still feeling homesick for London and looking for love; her boss, Chris, is in the early days of a relationship with her mother, Patrice. Osman mines the agonies Chris goes through to wean himself off takeaways and onto carrot sticks for all the humour it is worth. Polish handyman Bogdan becomes a get out of jail free card for the team, always on hand to get them out of trouble. Women go weak at the knees around Bogdan which becomes very helpful when dealing with Connie Johnson, the local drug dealer. There's a well-written and particularly comic scene when Bogdan calls on Connie to buy some drugs. The conversation is brief and perfunctory from Bogdan's point of view, but when the narration switches to Connie's perspective it is full of meaningful silences and erotic suspense.
Strangely for a murder-mystery, even a light-hearted one such as this, the plot is really not that important. An underworld boss has had some diamonds stolen by a Douglas Middlemiss, Elizabeth's ex-husband. Douglas works for MI6, but is close to retirement. In one of an increasing series of improbabilities MI6 agree to hide Douglas and his guard Poppy, an inexperienced agent on her first field assignment, in Cooper's Chase, the old people's community where the Club members live. As I am sure is common spycraft practice. When this location is compromised they are moved to another 'safe' house which proves equally easy to discover. Instead of just giving the diamonds back or running off with them, Douglas leaves an elaborate trail of clues for Elizabeth to track them down and find the probable killer. In the process she also draws together the novel's other threads, although the denouement requires everyone to behave incredibly improbably – going to a meeting without bodyguards for instance, or arriving in the country with a handgun without the need for any passport or customs checks – and the willing suspension of disbelief can be quite hard to maintain at times.
I am usually rubbish at solving the clues in mystery novels, but even I found the puzzles here very easy. Osman flags the clues without a lot of subtlety. A last message from Middlemiss to Elizabeth is left in a dead letter drop which he had earlier remarked on as an ideal place for a dead letter drop, and contains a simple acrostic puzzle using the first letters of each sentence. This wouldn't have been that hard to solve anyway (and it is a red herring) but earlier in the paragraph Elizabeth explains how acrostics work and how she and Douglas used to use them to share jokey messages between themselves. The rest of the letter is phrased strangely with unusual repetition, and I am sure I can't have been the only reader to scan it for clues – but it turns out the one simple clue it does contain is so obscure that only Elizabeth could 'solve' it using her shared past with Douglas. It's all over-elaborate, improbable, and unconvincing, but I don't think it matters a great deal – we know this isn't John le Carre after all, more akin to one of the Famous Five or Secret Seven novels sixty years on.
Osman has put lockdown to good purpose, crafting a mystery novel that keeps the reader guessing to the last page, not least as to the identity of the man who died twice as described in the novel's title. The jokes work well and are probably the best part of the novel. Checking back on the predictions I made for Thursday Murder Club 2 I probably got more wrong than right, and those that I did get right were fairly obvious – the format would remain unchanged for example – so credit to the author for avoiding some of the other more obvious choices. My mistake lay I think in my estimation of the length of the series – Osman is clearly here for the long haul, and we are going to be enjoying Thursday Murder Club novels for much longer than I imagined, if the progression here is anything to go by. And no complaints from me about that.